Zenith
RUMBA workstation
Rumba workstation showcases exceptional stability, rigidity and straight without compromising on visual resolution. Supporting individual and collaborative work modes in a range of different configurations, Rumba can be customised to meet every need. With a high focus on enhancing the end users feelings of wellbeing, this system is available in fixed height, technician, winder and electric adjustment.
Dimensions
Refer to product specification
Lead Time
Lead times are based on standard configurations.
Stocked models and finishes may vary, please contact us to check availability.
Customise Workstation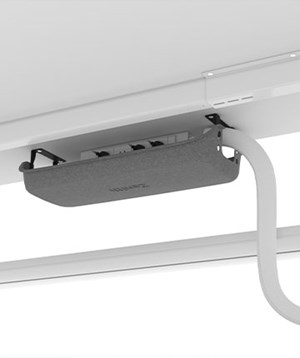 Cable Management
Cable management solutions that will help you manage, hide or store wires and cables around your work point.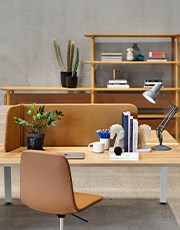 Precinct Hold On & Fold Me Screens
Precinct Fold Me is a movable, foldable screen that sits on any worktop and Precinct Hold On is a lightweight frameless screen.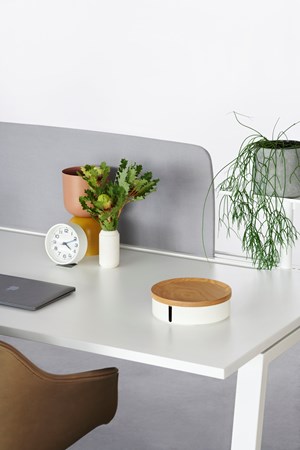 Work Shapes Desk Accessories
Work Shapes are a family of desk utilities made from textured powder coated aluminium and steel elements. Deriving size from a simple grid system, items nest, align, adapt and expand with ease across a workspace. Available with a caddy, container, pen cup and set of 3 dividers.
Work Shapes Desk Accessories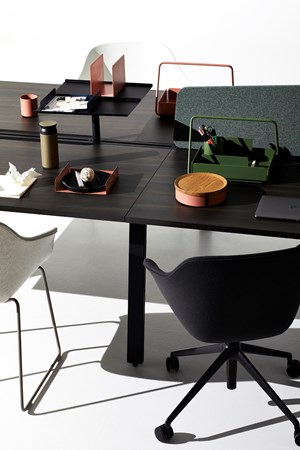 Work Shapes Shelves
Work Shapes is a family of worktop and hanging utility accessories. The Hanging Accessories consist of a hanging coat hook and whiteboard designed for the Precinct Pod and screen range. It is paired with the shelving system to stack, compose, store, arrange, share, play and shape the way you work.
Work Shapes Shelves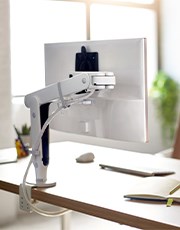 Monitor Arm
Zenith has a range of monitor arms that support single, dual and multiple monitors from a range of leading suppliers. Download the specification document to view these ergonomic solutions.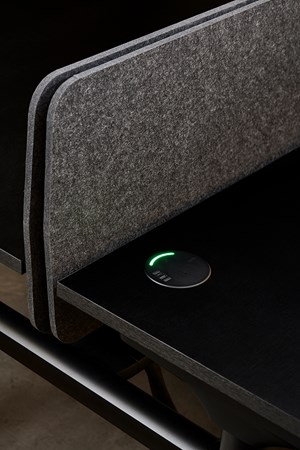 Floorsight
Floorsight provides you with a top of desk power solution, Space reservation system, Occupancy sensing/reporting and a Covid-19 return to work solution.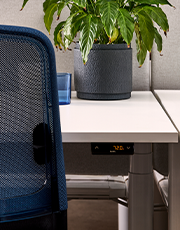 Zenith Handset Controller
Zenith 2 & 4 Button handset controller is a product of thoughtful innovation and customer-driven enhancement.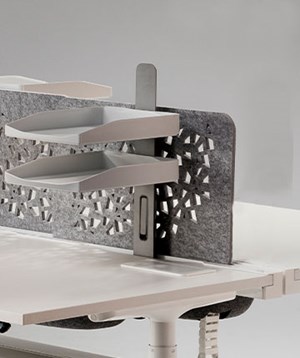 CTRL
Ctrl recognises that people work differently. As a system it encourages these differences by allowing individuals and teams to modify their own workspace as part of their daily workflow. Tool-less user interaction encourages a fluid composition of the objects and interfaces necessary to function effectively and efficiently.
Cable Hub
The Cable Hub is a recyclable 100% PET material in mid-grey finish with steel worktop mounting brackets in black powder coat. Cable Hub is compatible with all workstations/tables. Check the cable hub size & position under the worktop to en¬sure it will not clash with other items fixed underneath the worktop such as table support beams or in-desk boxes.
Refer to our Cable Management Specification for more details.
Zenith Design Studio
We're a design and experience centric studio who create furniture solutions based on our intimate understanding of the workplace and workplace behaviours. We apply our expertise in interior architecture and product development to create progressive, high performance workspace solutions.
In our Design Studio you'll meet our team of 30+ experienced product designers, mechanical engineers, product configurators, immersive experience developers and visual content creators. Our cyclical process of listening, investigating, experimenting, and learning, provides a proven platform for understanding the unique requirements of our clients.