Zenith
ORBIS ADAPT workstation
Orbis Adapt is an innovative desking solution that is powered by a fully integrated battery. The height adjustment mechanism, monitor and all peripheral devices can operate for a full day or more from a single charge. With untethered connectivity, whether collaborating or working alone, Orbis Adapt gives workers the freedom to create the workspace that best serves the task being performed.
Dimensions
Multiple sizes - refer to specification
Lead Time
Stock models may vary, please contact us to check availability.
Customise Workstation
The world's first integrated battery powered cable-free desking solution.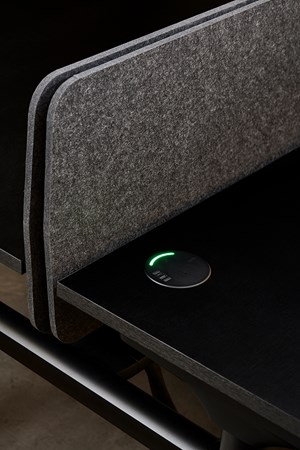 Floorsight
Floorsight provides you with a top of desk power solution, Space reservation system, Occupancy sensing/reporting and a Covid-19 return to work solution.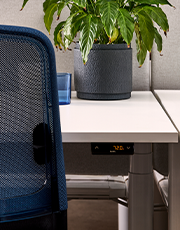 Zenith Handset Controller
Zenith 2 & 4 Button handset controller is a product of thoughtful innovation and customer-driven enhancement.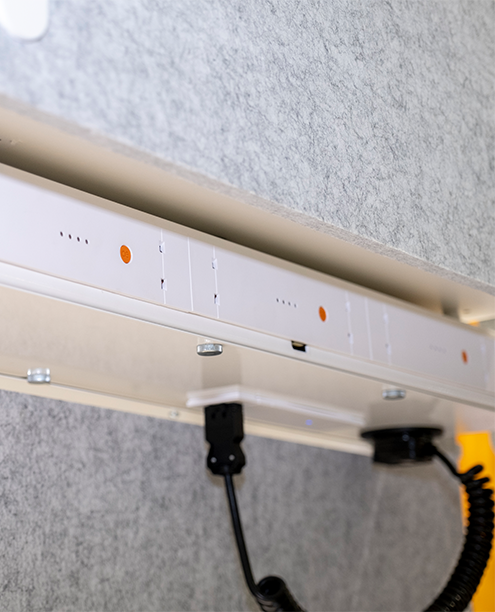 What is the difference between an AC appliance and a DC appliance?
AC stands for Alternating Current and is commonly integrated into our workplaces. However, the mains power source used in our traditional work related devices is often not required.
DC devices, which stands for Direct Current is widely used for low voltage, low current devices such laptops and phones. Traditionally, these devices require additional electronics in the form of a power pack or power charger to step the power down from high voltage to low voltage. Orbis Adapt acts as a the power pack, transforming mains energy from the wall, ceiling or floor into a DC battery which can then power our work devices directly. This negates the need to carry bulky charges and power bricks from home to the office or from one room to the next.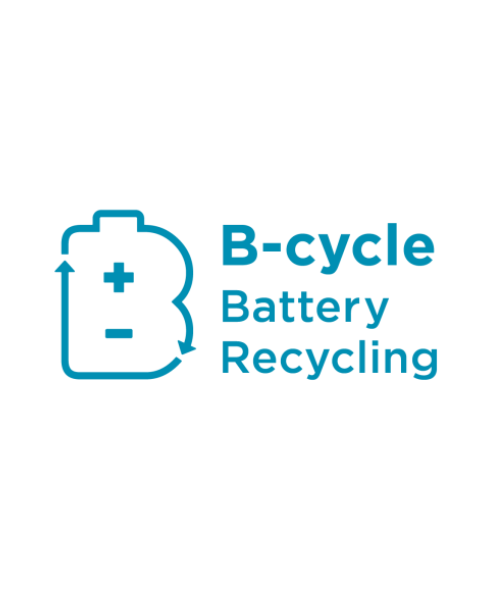 Battery Recycling
As part of the B-Cycle Battery Stewardship Program, OE Elsafe are committed to the safe recycling of batteries. In partnership with Envirostream, Orbis Adapt's Lithium-ion batteries can be safely recycled at their Victorian facility.
Envirostream are an ISO accredited battery recycler, who's processing system recovers approximately 95% of materials, and returns them to battery manufacturers in a circular exchange.
Zenith Design Studio
We're a design and experience centric studio who create furniture solutions based on our intimate understanding of the workplace and workplace behaviours. We apply our expertise in interior architecture and product development to create progressive, high performance workspace solutions.


In our Design Studio you'll meet our team of 30+ experienced product designers, mechanical engineers, product configurators, immersive experience developers and visual content creators. Our cyclical process of listening, investigating, experimenting, and learning, provides a proven platform for understanding the unique requirements of our clients.