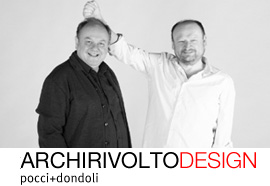 Designers of Allermuir's new Tonina Indoor/Outdoor Chair, Marco Pocci + Claudio Dondoli of Italian design studio Archirivolto......
Founded in 1983 as an industrial planning, design and architecture studio, Archirivolto have designed for a long list of renowned companies as Brunner, Ligne Roset, Vondom, Segis, Bonaldo, Casprini, Pedrali and Senator Allermuir.
Claudio Dondoli and Marco Pocci are originally from Colle d'Elsa, near Siena, Italy, where the "Archirivolto" studio still has its head office today. Dondoli and Pocci met in Florence at the university faculty of architecture where they were part of the same team. In 1983 they opened an industrial planning and architecture studio, which from 1989 has been working exclusively on industrial design.
For the "Archirivolto" studio a project starts from the direct relationship with the customer, "a good product has to have an affordable price".
The search for the most innovative materials and processes allows for the best results to be achieved in terms of a quality-price ratio; this is one of the main activities of the studio.
For Archirivolto, design is beauty, harmony and freedom and cannot therefore be bound by strict, pre-established rules, nor can it be the privilege of the social or cultural elite. The designer is committed to creating beauty for everyone and to make design approachable for an ever-increasing number of people.
The new Tonina Chair for Allermuir, inspired by fluid shapes in nature is created through an innovative manufacturing process known as the Biomimetic Method. Material is injected at high pressure into a steel mould to create an outer skin so smooth, the finish appears almost lacquered, and an inner structure with exceptional strength.